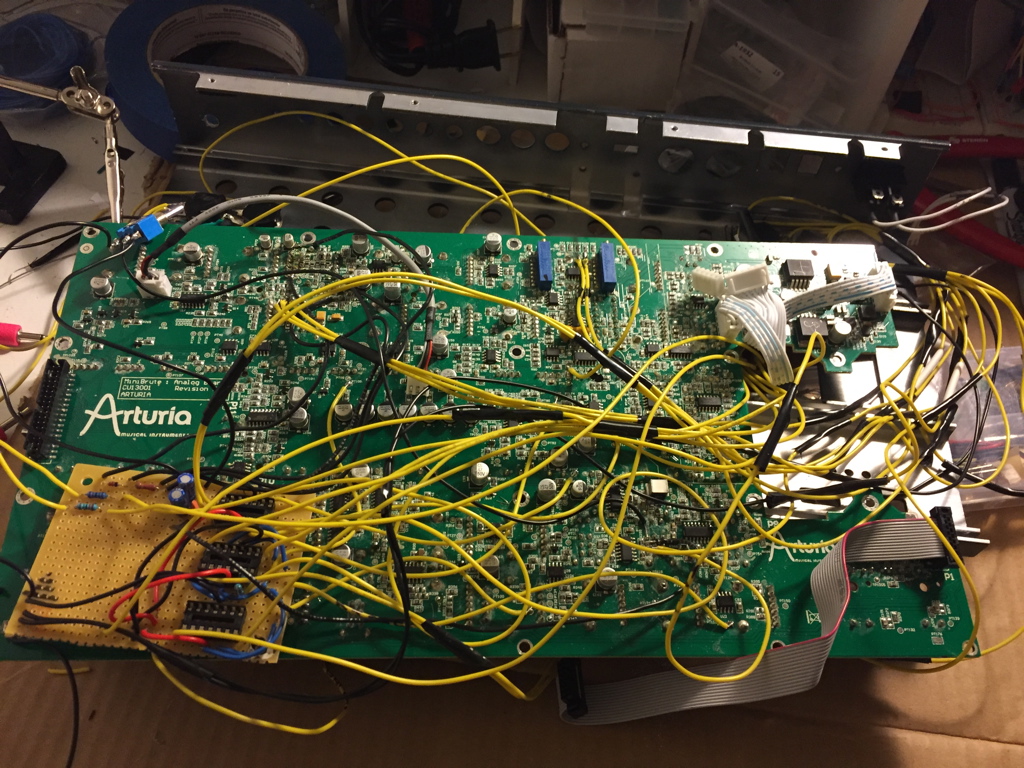 Arturia MiniBrute Modification
This modificiation expands the Arturia Minibrute's internal modulation matrix and provides buffered outputs that allow internal control voltages to interface with external modular synthesizers.
These modifications were able to be executed thanks to the schematics provided on
HackaBrute
.
Modifications Include:
Filter FM via Triangle and Saw Oscillator Waveforms; Whitenoise Generator.


Pitch Modulation via the Filter Envelope and Whitenoise Generator.


LFO Rate Modulation via Filter Envelope, Keyboard CV, Mod Wheel CV, Aftertouch CV, and External CV input.


Oscillator Hard Sync Input


Switchable Vibrato Rate: Audio, Sub Audio.


Buffered outputs for Mod Wheel CV, Aftertouch CV, Filter Envelope, LFO.
Stereo Interface
(prototype)


The Stereo Interface was designed to be a cost effective bridge between the modular and non-modular environment.

The Stereo Interface features two unbalanced input and output channels. The panel arranges the channels in a grid format to visualize signal flow without labels. The white knobs correspond to the input channels, while the black knobs correspond to the output channels.

The two input channels amplify line level signals to modular level and utilize three stage RGB metering to visualize the level of amplification. Each input channel features two buffered outputs for parallel processing. A future revision will allow one of these outputs to have a selectable source, ranging from the audio input to one of the three comparator stages that drive the RGB Metering.

The two output channels attentuate modular level signals to line level. With the potentiometer fully clock-wise, the output voltage will peak around 2.5 Volts. A future revision will expand the output signal conditioning with a switchable attentuation range and a high pass filter. The variable attentuation range will better condition signals for equipment with low headrom and the high-pass filter will remove any potential DC offset or unwanted low frequencies.